Washington State Student and Youth Homelessness COVID-19 Response Fund
Awards: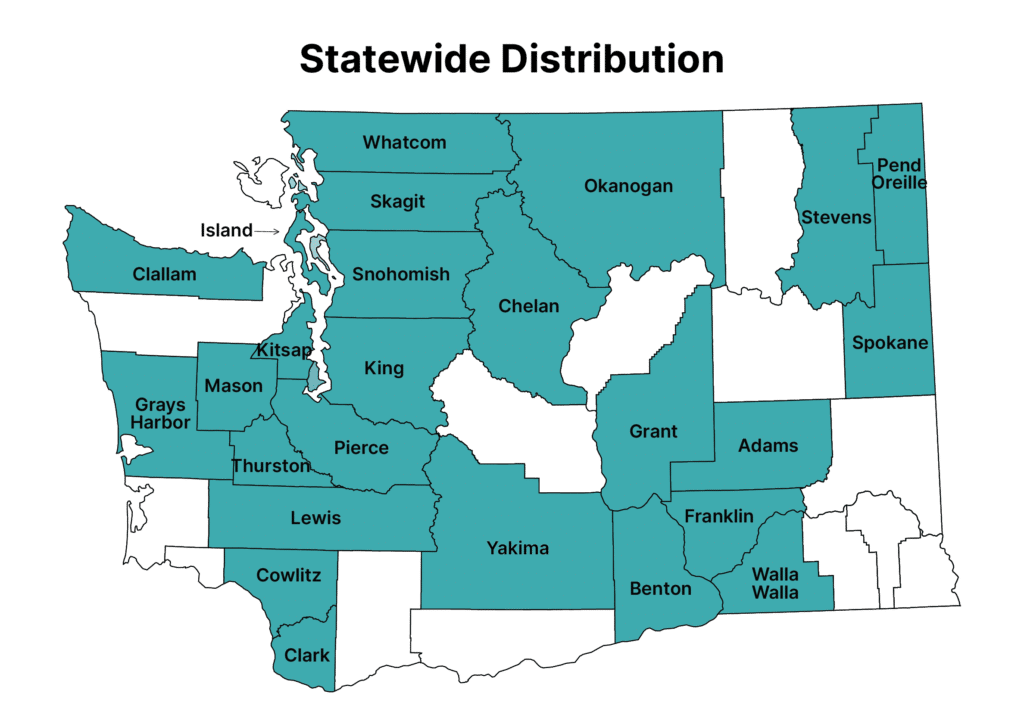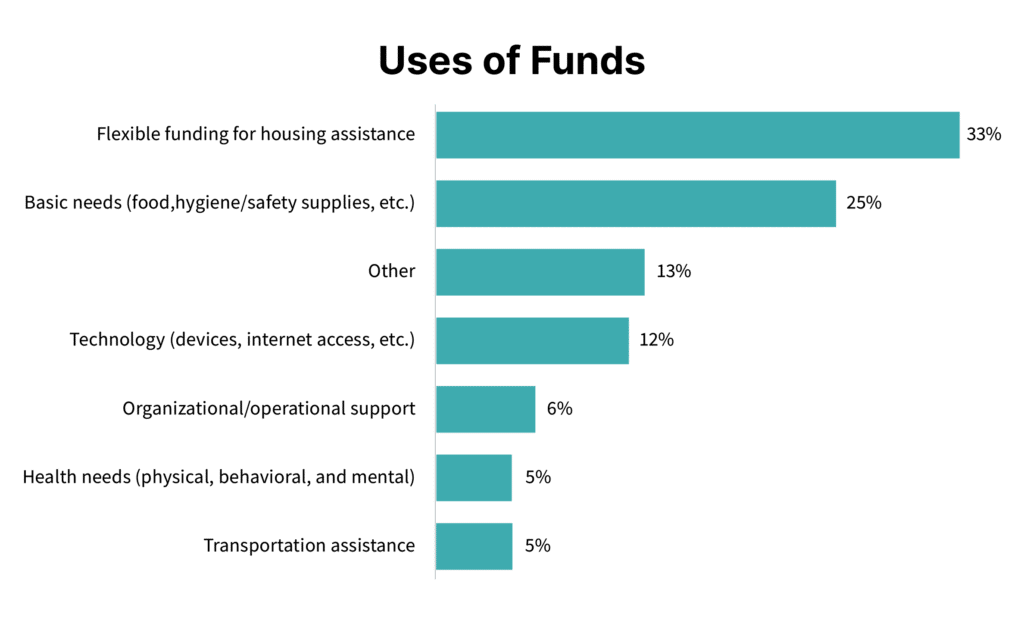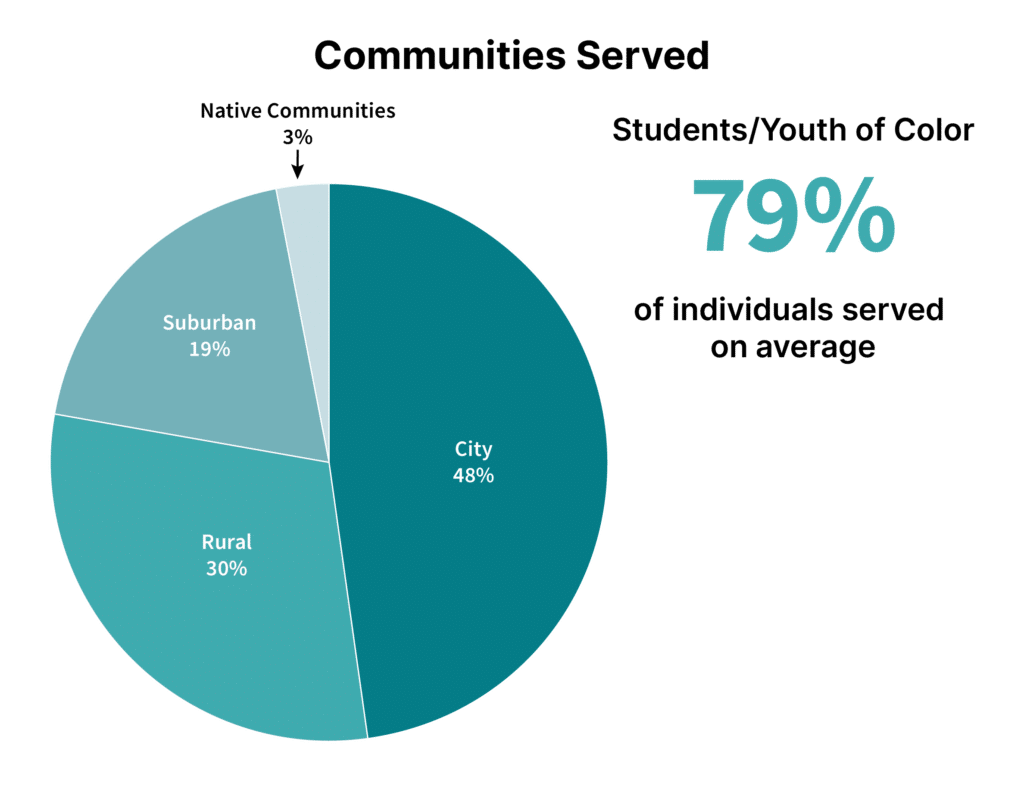 Grantees:
Click on a county name below to jump to that section of the list. Counties indicate service areas, not locations, of grantees.
Benton County
Kiona-Benton City School District
Safe Harbor Support Center
Chelan County
Wenatchee School District
Wenatchee Valley College Foundation
Clallum County
Boys & Girls Clubs of the Olympic Peninsula
Sequim School District
Serenity House of Clallum County
Clark County
Battle Ground Education Foundation
Clark College Foundation
Council for the Homeless
Evergreen Public Schools
Family Promise of Clark County
Vancouver Public School District HOPE Program
Cowlitz County
Longview Public Schools
The Moore Wright Group
Youth and Family Link
Franklin County
Career Path Services
Columbia Basin College Foundation
Grant County
Reading Foundation of the Quincy Valley
Royal School District
Grays Harbor County
Hoquiam School District
Island County
Coupeville School District
Readiness To Learn
Ryan's House for Youth
King County
Abused Deaf Women's Advocacy Services
Acres of Diamonds
Afghan Health Initiative
African Community Housing and Development
Abubakr Islamic Center of WA
Assistance League of Seattle
Atlantic Street Center
Battlefield Addiction
Bellevue LifeSpring
Bellevue School District
Boys & Girls Clubs of Bellevue
Boys & Girls Club of King County
Cham Refugees Community
Children's Welfare International
CHOOSE 180
Communities In Schools of Federal Way-Highline
Communities In Schools of Kent
Communities In Schools of Renton-Tukwila
Community Passageways
Compass Housing Alliance
Construyendo Juntos (fiscally sponsored by The Dare2Be Project)
Dignity for Divas
Duwamish Tribal Services
East African Community Services
Escape to Peace
Fathers and Sons Together
Friends United to Shelter the Indigent, Oppressed and Needy (FUSION)
Gifts of Hope (fiscally sponsored by Southeast Youth & Family Services)
Highline College (fiscally sponsored by Highline College Foundation)
Highline Schools Foundation
Horn of Africa Services
Huchoosedah, Seattle Public Schools Indian Education Program (fiscally sponsored by Chief Seattle Club)
ICNA Relief USA Programs
Integration Family Services (fiscally sponsored by Financial Services Coalition)
Iraqi Community Center of WA
Junior Achievement of Washington
Kandelia (formerly known as the Vietnamese Friendship Association)
Lake Burien Presbyterian Church
Legal Counsel for Youth and Children
Lutheran Community Services Northwest
Marvin Thomas Memorial
Mary's Place
Meet Me at The Well
Mt. Si High School
Multi-Service Center
Neighborhood House
New Horizons Ministries
Pacific Islander Community Association of WA
Penny's Place
Port of Support & Pathwayz to Success
Provide Now
Rainier Valley Food Bank
Rainier View Elementary School
Real Escape from the Sex Trade (REST)
Reclaiming Our Greatness
Renton School District
Renton Technical College Foundation
Resilient in Sustaining Empowerment (R.I.S.E.) (fiscally sponsored by Central Area Youth Association)
Restore Assemble Produce
Riverton Park United Methodist Church
Seattle Education Access
Seattle Public Schools
Seattle World School Fund
Shoreline PTA Council
Shoreline School District
Snoqualmie Valley Shelter Services
Solid Ground
Somali Family Safety Task Force
Somali Parents Education Board (fiscally sponsored by RVC Seattle)
Somali Youth & Family Club
South Shore PK-8 School
Southeast Youth & Family Services
St. Stephen Housing Association
Still Waters
Tahoma School District
Team Redeemed Life Center (fiscally sponsored by Tiny Tots Development Center)
Technology Access Foundation
Teenagers Plus
The Dare2Be Project
The Financial Services Coalition-Puget Sound Charitable Foundation
The G.O.O.D.E. Foundation
The Joseph Project
Tukwila School District
Unkitawa
Urban League of Metropolitan Seattle (ULMS)
Villa Comunitaria
Wakulima USA
YMCA of Greater Seattle
You Grow Girl!
Kitsap County
Seattle's H.O.M.E For All
Lewis County
Centralia College Foundation
Toledo School District
Mason County
North Mason School District
Shelton Family Center
Shelton School District
The Mason County HOST Program
Okanogan County
Foundation for Youth Resiliency and Engagement (FYRE) (fiscally sponsored by Room One)
Room One
Pend Oreille County
Cusick School District
Pierce County
Bethel Community Services
Cornerstone 253
Fife School District
Franklin Pierce School District
Harbor Hope Center
House of Matthew Permanent & Supportive Housing Program
House of Prayer Foundation
Mercy Housing Northwest
Multicultural Child and Family Hope Center
Power of Two
Priceless Inspiration (fiscally sponsored by The New School at Chambers Bay)
PUSH for Dreams (fiscally sponsored by The New School at Chambers Bay)
Puyallup Tribe of Indians
Rebuilding Hope! Sexual Assault Center for Pierce County
Safe Harbor Support Center
Shared Housing Services
Sheron Ann Foundation
Tacoma Public Schools
Tacoma Urban League
Tacoma Youth for Christ
The Genesis Project Seattle
The REACH Center (fiscally sponsored by Tacoma Community House)
Trinity Presbyterian Church
Wakulima USA
Washington Masonic Charities
What a Blessing Street Outreach
YMCA of Pierce and Kitsap Counties
Skagit County
Boys & Girls Clubs of Skagit County
Burlington Midday Rotary Club
Burlington-Edison School District
Concrete School District
Family Promise of Skagit
Helping Hands of Skagit County
La Conner School District
Mount Vernon School District
Northwest Youth Services
Skagit Valley College Foundation
Skagit Valley Family YMCA
Sedro-Woolley School District
Snohomish County
Compass Health
Foundation for Edmonds School District
Gambian Talents Promotion
Helping Hands Project Organization
Millennia Ministries
Monroe School District
Northshore School District
Spruce Elementary
Volunteers of America Western Washington
Washington Kids in Transition, Everett Chapter
Spokane County
If You Could Save Just One
Mead School District
M.H.A. Speakout Speakup
Spokane Workforce Council
Stevens County
Wellpinit School District
Thurston County
Gender Justice League
Innovations Human Trafficking Collaborative
Little Red Schoolhouse (fiscally sponsored by Family Education and Support Services)
North Thurston Public Schools
Olympia School District
Port of Support & Pathwayz to Success
South Puget Sound Community College Foundation
TOGETHER!/Yelm/Tumwater
Yelm Community Schools
Walla Walla County
Catholic Charities Walla Walla (fiscally sponsored by Catholic Charities of Spokane)
Walla Walla Community College Foundation
Whatcom County
Bellingham Public Schools
Bellingham Technical College Foundation
Empower Next Generations (fiscally sponsored by Community Health Worker Coalition for Migrants and Refugees)
Interfaith Coalition of Whatcom County
Lummi Stepping Stones (fiscally sponsored by Lhaq'temish Foundation)
Lydia Place
Whatcom Community College Foundation
Yakima County
Grace City Outreach
Mount Adams School District
Rod's House
Wapato School District